This is the Scarecrow lesson that the kids did in Sunday school last week!
"Faith Overcomes Fear" Bible Lesson for Children
Bible Story: "Fear Meets Faith"
Scripture: Multiple scriptures on fear and faith; focus on Psalm 118:6 & 32:7
Time: 45-60 Minutes
Introduction:
· How many of you are human here? Well if you are human (and I do believe all of you are), you are going to struggle with being afraid. You could be afraid of the dark, being alone, clowns, bugs, or the fear of something happening to someone you love. When I was younger, I used to be afraid of ___________. Share a story in which you were fearful as a child.
· What are some other things people may be afraid of? (Invite student responses.)
· God knew that we would be people who struggle with fear. He knew that in our world darkened by sin, there would be many things to be afraid of. If you search the Bible, the word "Fear" is mentioned 326 times, that's a lot! Over and over again, God says, "Do not be afraid."
· "Do not be afraid?" How is that even possible? Let's investigate today.
Learning Activity #1: Fear Meets Faith Bible Lesson
Have a dialogue with the puppet to help keep kids engaged. Ask the puppet the question and have him answer.
1. Our world is full of fear. Why shouldn't we be afraid? God says….
"So do not fear, for I am with you; do not be dismayed, for I am your God. I will strengthen you and help you; I will uphold you with my righteous right hand."
- Isaiah 41:10
(God is with us no matter what fearful time we are going through.)
2. What if we don't want to be afraid anymore. How can we stop?
"For I am the LORD, your God, who takes hold of your right hand and says to you, Do not fear; I will help you." – Isaiah 41:13
(He helps us. We can't do it on our own. He gives us His Word to hide in our hearts when we are scared, His Holy Spirit to comfort us, grown-ups who follow Jesus to help us, prayer, and friends hips. Make it clear to your students that you are always there to support them and help them get over a fear.)
3. What would happen if we don't give our fears to God?
"For you did not receive a spirit that makes you a slave again to fear, but you received the Spirit of sonship. And by him we cry, "Abba, Father." – Romans 8:15
(Fears tend to grow, sometimes out of control. The more you are afraid, the less you live the life that God has for you. Being afraid is like being in a prison, but God has set us free. As His children, we can trust Him because He is a good Dad."
4. How can we trust Him? Will He really help us with our fears?
"There is no fear in love. But perfect love drives out fear, because fear has to do with punishment. The one who fears is not made perfect in love." – 1 John 4:18
(Jesus' love for us is perfect. He showed us that by dying on the cross to rescue us from our sins. Perfect love is the only thing that can drive out all fear.)
5. What if we do learn to trust Him? What then?
"Fear the LORD, you his saints, for those who fear him lack nothing." – Psalm 34:9
(If we trust God more than we fear the world, we show Him honor and love. This verse says that we will lack nothing. In other words, we will be given everything we need in Him. Wow! Now that's a promise worth holding onto!)
Learning Activity #2: Trust Toss Game
Recite Psalm 118:6. Have them repeat it after you. Practice a couple of times.
"The Lord is with me; I will not be afraid." – Psalm 118:6
Have the students make a circle. The first student to receive the ball should say the verse and toss it to a friend. That friend will catch the ball, repeat the verse, and toss it to someone who hasn't had it yet. Have them continuing tossing and repeating the verse until everyone has had a turn. Time them and see how quickly the Trust Toss can make its rounds. If time allows, play again and try to beat your time.
Craft: Scarecrow Toilet Paper Roll
Object Lesson: Have you ever seen a scarecrow? Farmers use them in their fields. Do you know why? To scare away crows and other kinds of birds that eat their crops. Wouldn't it be great if we could use scarecrows to scare away frightening things in our lives? What are some things that scare you? (Allow for discussion). We can't use scarecrows to scare away frightening things, but we do have someone who has promised to be with us, to protect us and to never leave us. We have Jesus, our Savior and Forever Friend. This is what the Bible says he has promised his children:"The LORD is with me; I will not be afraid." (Psalm 118:6) "You are my hiding place; you will protect me from trouble." (Psalm 32:7) and "I will never leave you nor forsake you." (Joshua 1:5)
Let's pray and ask Jesus to help us trust him to protect us (Pray specifically about the scary things mentioned during your discussion time. Thank God that he has promised to protect us and never leave us.).
Today we will make a Scarecrow to remind us that God will protect us and never leave us and because of this, life doesn't have to be scary!
What You Need:
• TP roll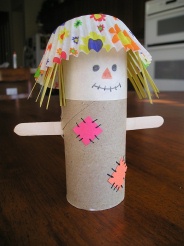 Cadence made a Rapunzel Scarecrow.

• Popsicle stick

• Muffin cup
• Construction paper
• Masking tape
• Glue
• Scissors
• Markers
Here's how you make it...
1. Cut 2 slits down your TP roll, opposite each other and about 2/3 down the roll (see picture).
2. Slide your popsicle stick into the slits. Wrap the top 1/3 of the roll with masking tape (to make the scarecrows face, and to keep the TP roll together). 3. Cut a strip of yellow construction paper about 5" X 11/2" big. Cut fringe at either end. Fold it to fit the top of the TP roll and glue on. 4. Once your Scarecrow's hair is on go ahead and draw on a face and glue on your muffin cup hat. Add a little more color by cutting out small square patches for your Scarecrow.
If you're doing this craft with preschoolers, make it easier by having the craft stick and masking tape in place and pre-cut the hair. They can glue on everything and make the Scarecrow's face!
Snack:
Activity: Coloring Pages
Closing: Pray about fears and not being afraid because God is with us and will protect us. Repeat the bible verse that you learned. Hand out Scarecrow Lollipops!